A comedy club owner told me recently that I wasn't "balls to the wall" enough, that he didn't feel he "got to know who Dan Bingham was".  I really hope he comes to Adopt This!, my one-man show which will be premiering this summer at the ST-AMBROISE MONTREAL FRINGE FESTIVAL from June 11th until the 19th at the Portuguese Association of Canada.  Oh he'll get to know who Dan Bingham is.
I've always believed that comedy is about making people laugh, as often and as hard as humanly possible, without injuring themselves or staining their undergarments.  Nearly six years into my comedy career this is all I have ever strived towards, and as much as I've succeeded in doing so, something doesn't feel right.  Yes I've crafted a few stories and observations into comedic material most folks can relate to, but when I rest my head at night, I still don't feel as though I've fully expressed myself.  I still haven't shared how I really feel about the world, still haven't focused my observations inward, still haven't done what most of my comedic idols have done which is transform tragedy into laughter: the ultimate form of alchemy.
All this time my balls have come nowhere near a wall.
It is within these walls where Adopt This! will take place
Another thing the comedy club owner told me after watching my 5-minute set was that I try to please the crowd too much.  Part of me finds it strange that he would consider this a negativism, considering the crowd pays money to be pleased.
But an ever larger part of me feels he was right.
When I watch comics like Louis CK, Doug Stanhope, Ricky Gervais, Bill Burr, Mike DeStefano (may he RIP) or Jim Jeffries, there is not one iota of their personalities that says "I hope you like me".  Their subjects are edgy, their perspectives are dark, their material is hilarious, and they couldn't give two shits about what an audience thinks of them.  The result:  Wall to wall laughs in full theaters around the world.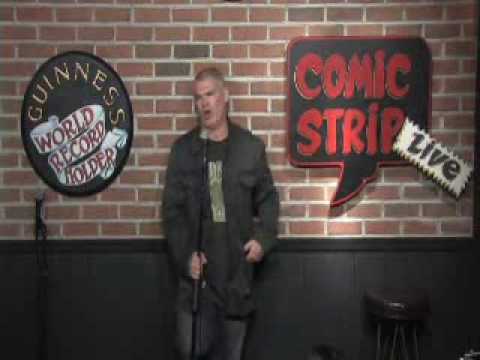 During my first paid writing gig at MontrealMagazine.ca I interviewed the bass player from the acid Jazz band Kobayashi.  I asked him if he wrote music for himself or for the audience and he told me something six years ago that I still remember word for word:
"You have to write music for yourself.  You don't know what the audience likes or wants, so if you try to write for them, guessing what they'll enjoy you create this compromised version of something that doesn't have any heart.  If you stay true to yourself, you might create something that goes over the audience's head. Don't throw it out or dumb it down for them. Keep at it.  Let them grow and rise to understand.  Only then will they feel they truly experienced something special.  That's how you develop real fans."
This is true for music, but I feel it holds true to every art form across the board.  Bill Cosby once said "I don't know the secret to success, but I know the secret to failure and that is trying to please everybody."  This is coming from arguably the funniest, the most relatable and most beloved comedian of our generation.
I have many dark secrets that I would like to share.  Many stories that I haven't had the courage to tell because I fear what people will think, or worse, they won't find them funny.  For my entire life I've been making people laugh, and yet now that I'm a comedian I still don't feel like I'm making people laugh for the right reasons.  How stupid is that?
This is what Adopt This! is all about.  I'm sharing my story of growing up adopted in a household with a strict and highly medicated Irish Catholic mother along with her fat, hoarding and abusive boyfriend.  It's about divorce, depression, and rage.  It's about my fears and insecurities, especially around women, it's about my love for drinking and my recent decision to stop, it's about the most incredible thing in the world which was reuniting with my rowdy Scottish biological family.  It's about balls.
Missing: 2 uncles, 1 aunt, 2 grandparents, 1 bio-dad, and 1 million cousins
It also needs to be a 45-minute show and right now it's still at 600, so it's about editing and making choices.
But above all else, it's about transforming tragedy into comedy, it's about laughter.
So come see the show, I will try really hard to not give two shits about whether people like it or not (God I hope everyone loves it and consequently loves me).  It will be Dan Bingham with his balls to the wall, whatever the hell that means.
Showtimes and Location
Portuguese Association of Canada, 4170 rue St. Urbain, Montreal, Venue 7
Saturday JUNE 11 @ 10pm
Sunday JUNE 12 @ 6:30pm
Wednesday JUNE 15 @ 8pm
Thursday JUNE 16 @ 3pm
Friday JUNE 17 @ 10:30pm
Sunday JUNE 19 @ 6:30pm

Tickets: $10
Box Office: (514)849-FEST
www.montrealfringe.com

You can also read the official Adopt This! Press release
Baby Photo by Darren Curtis